From The Couch – A Win's A Win, I Guess
From The Couch – A Win's A Win, I Guess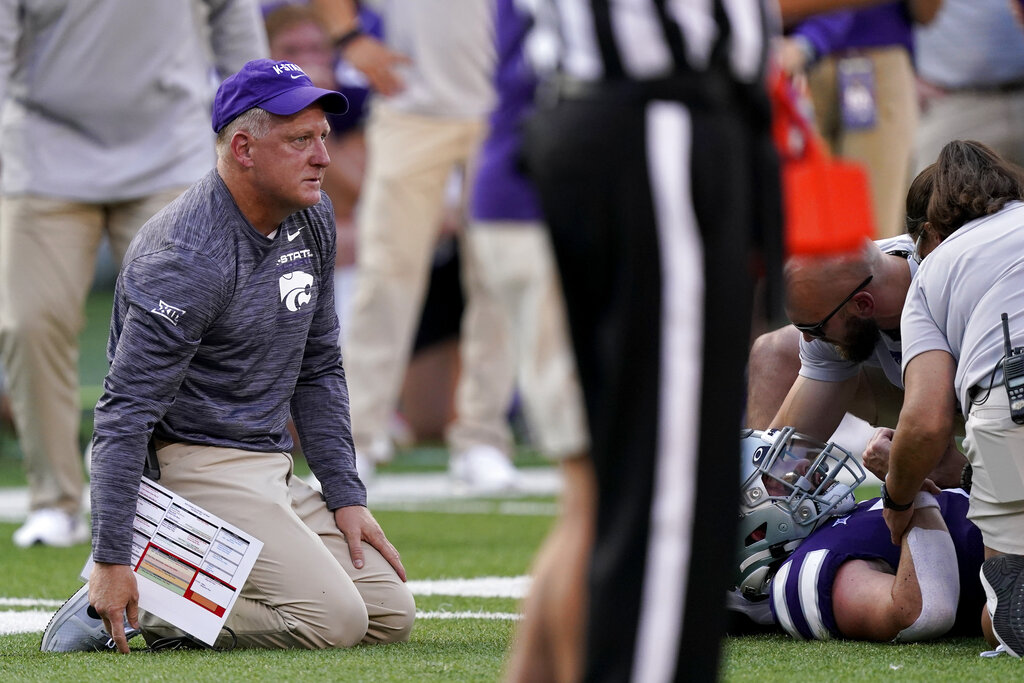 K-State escaped with a 31-23 victory over Southern Illinois on Saturday night, a night in which starting quarterback Skylar Thompson appeared to suffer a serious knee injury in the first quarter and may be out for the remainder of the season. We probably won't know for sure until Monday at the earliest. The defense came up big in the second half, holding SIU scoreless and scoring just enough on offense to secure the eight-point victory. Here are some quotes of note from Saturday.
"I don't know (Thompson's condition) at all. I was sick to my stomach because of what he means to me and what he means to my family and to watch what he went through last year I was devastated for the kid. I'm praying and hoping for the best."…Chris Klieman, post-game

JM: Right after Skylar went down, Chris Klieman rushed onto the field and I tweeted this:
Chris Klieman kneeling and praying in front of a downed Skylar Thompson. Yikes.

— Joe Mathieu (@joemathieu) September 11, 2021
It appeared that both Skylar Thompson and Chris Klieman knew it was a serious, and perhaps a career-ending, injury.

"It was gut-wrenching, I saw (Thompson) go down in my peripheral, but I didn't know what happened to him. I turned around and saw him on his back and squirming in agony. My prayers go up for him. That's our QB1. That's our star player. That's Skylar Thompson. To see him go down…that's a great guy, a great player." …Deuce Vaughn, post-game

JM: You can view the video of Thompson's injury below. The weird thing is that he didn't get hit or anything. He was running in the open field to make a block and his knee gave out.
Another angle of Skylar Thompson's injury pic.twitter.com/jdvkqSe8sC

— John Kurtz (@jlkurtz) September 11, 2021
"Well we are excited to get the win against a good Southern Illinois team. I know the league really well that they play in and I know they have really good football players. Next thing it was 21-9 and then the flood gates opened because we couldn't hang on to the ball offensively and next thing you know we're down 22-21 with four turnovers at half and probably deserve to be down more."…Chris Klieman, post-game
JM: The entire K-State team played like they were shell-shocked after Skylar Thompson's injury. I think halftime allowed them to get their heads on straight. At least a little bit.
"I thought defensively we played exceptionally well in the second half. So I'm pleased with the win, and a win's a
win, and I'm never going to not enjoy a win."…Chris Klieman, post-game
JM: The Wildcat defense posted a shutout in the second half, thanks in part to a missed field goal by Southern Illinois.
" He (Will Howard) struggled a little bit, but some of it was credited to Southern Illinois, and they did some really good things. Then he made a big-time throw to Philip (Brooks) on the last drive to keep it alive because we were starting to wear down on defense. So the kid made a play. Will (Howard) is a good football player, I've told you guys that ."…Chris Klieman, post-game
JM: I hate to bash the players, but Will Howard was downright awful in relief of Skylar Thompson. Time for Klieman to quit telling us how great Will Howard is. I'd like to see it on the field. When Howard first came into the game, the Cats rushed three times for a touchdown. On the next possession, the Cats marched down the field on an 11 play touchdown drive where they ran the ball eight times and passed it three times to go up 21-3. Then the wheels fell off. SIU scored a touchdown to cut the lead to 21-9. Then Deuce Vaughn fumbled deep in their own territory and SIU recovered and needed just two plays to score a touchdown to cut the lead to 21-16. On the ensuing possession, Howard threw a pick-six and SIU took a 23-21 lead. On the next possession, Howard was sacked and fumbled the ball back to SIU, but luckily K-State's defense held. All of this happened within a few minutes. I've never been so glad to see halftime.
"A win's a win. But I think defensively we can do better, but I'm just so glad my teammates stepped up and just
played well. The last couple drives, I made pretty big plays but all those plays wouldn't happen if my teammates
didn't give me good looks and stuff like that so I appreciate them. It was just a mob effort." …Felix Aniduke
JM: Aniduke is a beast! He had five tackles, three sacks, and two forced fumbles in this game and it seemed like they all came at key moments. The defense won this game because of their play in the second half.
"I'm honestly sick to my stomach because I felt like we should have won that football game "..Southern Illinois head coach Nick Hill
JM: This game could have gone either way. A win's a win, and I'll take it, even though it was not pretty.
A couple of other observations:
-Deuce Vaughn had 26 carries for 135 yards and three touchdowns. He mentioned in his post-game presser that he was really sore. I am bewildered that the other running backs aren't utilized more. Deuce is great and is definitely the number one back, but every time Jacardia Wright gets the ball he makes positive plays. He had three carries yesterday for 24 yards and on the last carry, which was a great run, my son and I joked that he'll probably get up and sprint to the sideline and be replaced. And that's exactly what happened. Mind-boggling.
-Malik Knowles had four catches for 112 yards and a touchdown. Did you know it was the first 100-yard receiver for K-State since 2018 (Isaiah Zuber)? Heard that on the radio post-game on the way home.
-Almost 50,000 fans packed into Bill Snyder Family Stadium. It was great to see a full stadium again and it was a great environment to be a part of.
If Skylar Thompson's career is indeed over, I'm afraid it is going to be a long season. I hope Will Howard proves me wrong. Nevada is coming to Manhattan next week and they are a good team. It will not be an easy game, especially now. Regardless, I'll be there cheering at 1:00 next Saturday. Hope to see a lot of you there!