From The Couch – K-State's Loss To Tulane Raises A Lot Of Questions About The Wildcats
From The Couch – K-State's Loss To Tulane Raises A Lot Of Questions About The Wildcats
It has been a long time since I have been as frustrated as I was yesterday while watching a football game as Tulane beat K-State 17-10 in Bill Snyder Family Stadium. It appeared that the Wildcats didn't show up at the start of the game and never got anything going offensively. While I think Tulane has a pretty good team, this is a game K-State should have won. The reasons why they didn't are plentiful. I'll try to dissect what went right and what went wrong.
"The game comes down to our inability to convert on third downs, going two of fifteen, and then the inability to convert on fourth down, going one of five. Put that on me, don't put that on the kids."…Chris Klieman, post-game
JM: The play calling in this game, especially in short-yardage situations, was atrocious. You're not going to win many, if any, games going two of fifteen on third down and one of five on fourth down.
"They got after us, they did some good things with stunts, they got penetration, and we just didn't make the plays that we are capable of making."…Chris Klieman, post-game
JM: That's an understatement.
"That's what CK [Collin Klein] had dialed up and a couple of times we make the wrong cut, a couple of times to the defenses' point, we don't block it right. We have an option called and we should get it there and then we misfired on a couple of them. In the past games where we thought we'd have it so once again it's a lot of different things from execution to just not getting it done. So we've got to do a much better job."…Chris Klieman, post-game
JM: Is this an indictment on the coaches or the players? Or both?
"We had a really good preparation and preparation doesn't equate to execution sometimes. I thought we prepared well, but I didn't think we executed very well."…Chris Klieman, post-game
JM: So the players then.
It wasn't all bad for K-State. In the second quarter, quarterback Adrian Martinez hit Kade Warner on a 21-yard touchdown pass to tie the game 7-7….
JM: Unfortunately, this was the longest completion of the day for Martinez. He rarely looked downfield or took a shot downfield. He had 21 completions on the day for 150 yards, an average of a little over seven yards per completion. Take away the 21-yarder, and he averaged 6.45 yards per completion. That's not going to get it done in the Big 12. He had wide open receivers all game, but didn't get them the ball.
"We talked after and he felt like he was open so again that is something I am going to have to look back on film and see what that look specifically was."…Quarterback Adrian Martinez, post-game
JM: This was Martinez's answer when asked about the final play of the first half. Was Knowles open on the play? You be the judge…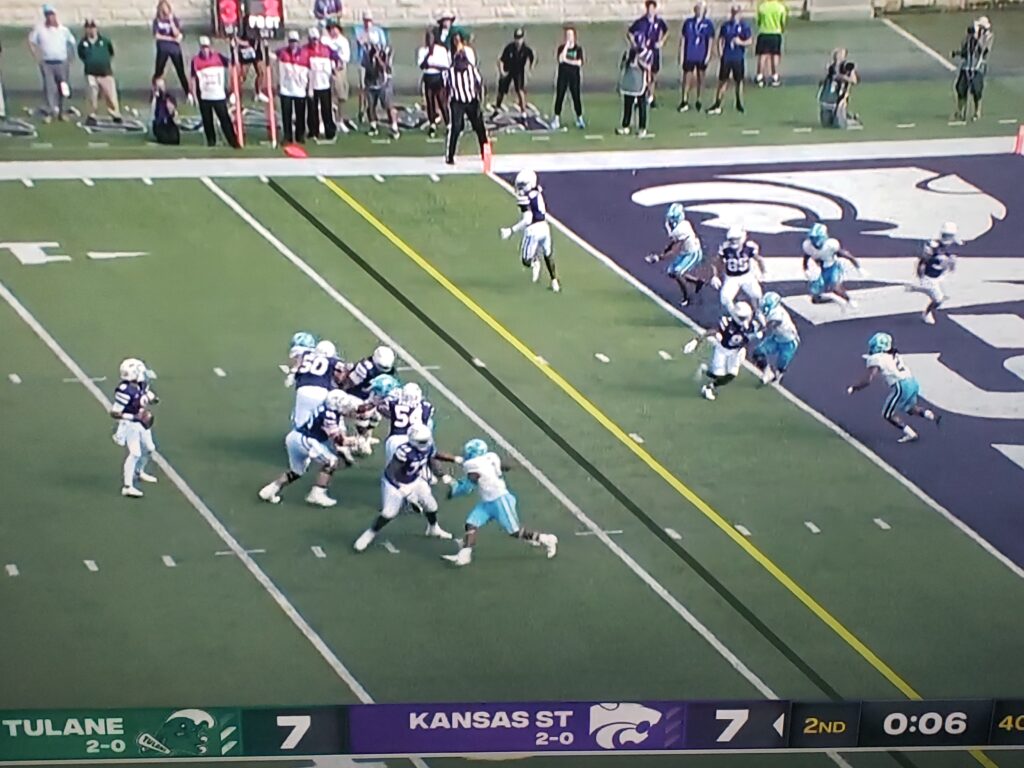 JM: Had Martinez thrown it to Knowles at the exact moment in the screen grab, it may have been picked off by the defensive back and returned for a touchdown. Knowles was open right before this, but hadn't turned his head to look for the pass, so Martinez didn't throw it to him. Instead, he had to throw it out of the end zone and the Wildcats settled for a field goal to take a 10-7 lead going into halftime. Should Martinez have passed the ball in anticipation of Knowles turning to see and catch the ball? Perhaps, but I'm not going to be too critical analyzing this play.
"They played good defense. I'll give my hats off to those boys. They stayed in their run gaps. They were very patient, safety wise, linebacker wise of filling gaps. That's one of the things they were saying constantly throughout the game was 'stay in your gaps, stay in your gaps,' they did a really good job."…Deuce Vaughn, post-game
JM: Vaughn rushed for 81 yards on 20 carries in the game. He had a couple of nice runs, but was contained for the most part.
"That should have been pick number two right there."…Todd Doxson, ESPN Plus
JM: With the game tied at 10 with six minutes left in the third quarter, safety Drake Cheatum had an opportunity to intercept Michael Pratt. If Cheatum makes the catch, he likely returns it for a touchdown and who knows how the game turns out. They call it a game of inches for a reason…
JM: There are a lot of other plays in the game that could have turned the tide and made it a different game. In the third quarter, with the game tied at 10, K-State was driving and had a fourth and 2 on Tulane's 45 yard line. The play-call? They ran DJ Giddens up the middle and he was stuffed for a loss. This play was called after Tulane had stuffed K-State on short yardage situations for most of the game. The boo birds came out after this was not converted. The teams each had another possession and with about six and a half minutes left in the game K-State was driving again and had a fourth and one, this time on Tulane's 44 yard line. Adrian Martinez was stuffed for a four-yard loss trying to run the option. The boo birds came out even louder. This time Tulane took advantage and drove down the field and scored what would end up being the game-winning touchdown. In hindsight, it would have been much better to punt and pin Tulane deep in their own territory, especially since the game was tied. On K-State's possession following the touchdown, they drove to the 50 yard line and the offense stalled out once again and they were forced into a fourth down…
"And now K-State is going to be forced to go for a fourth down for the sixth time today."…Mark Neely, ESPN Plus
JM: Just like the play by play announcer, I thought the Wildcats were going to go for the first down. Instead, Chris Klieman decided to punt since K-State had three timeouts remaining. The plan didn't work, as Tulane got a first down, running out the clock and winning the game.
The Wildcats are now 2-1 on the season with a huge game against Oklahoma next Saturday at 7:00 PM on Fox. Win that game and fans will quickly forget all about this game. Unfortunately, I'm not sure the Wildcats have what it takes to get the victory. We will see.
---
Reggie Blackwell and Joe Mathieu have a podcast! Check it out at the links below!
https://bleav.com/shows/bleav-in-k-state/
Listen on Apple Podcasts: https://podcasts.apple.com/us/podcast/bleav-in-k-state/id1642985752
Listen on Spotify: https://open.spotify.com/show/1O76sSFuipUeVieV4lUBJx?si=6R1zbcbrTguXj8hQAtANeQ&utm_source=copy-link
Contact us at:
Facebook: https://www.facebook.com/kstatejoe
Twitter
Joe: https://twitter.com/joemathieu
Reggie: https://twitter.com/ReggieRbsports
Check out The Reggie Blackwell Show on 590 The Fan in St. Louis.