From The Couch – Timmy Horne Turns The Tables On The K-State Media
From The Couch – Timmy Horne Turns The Tables On The K-State Media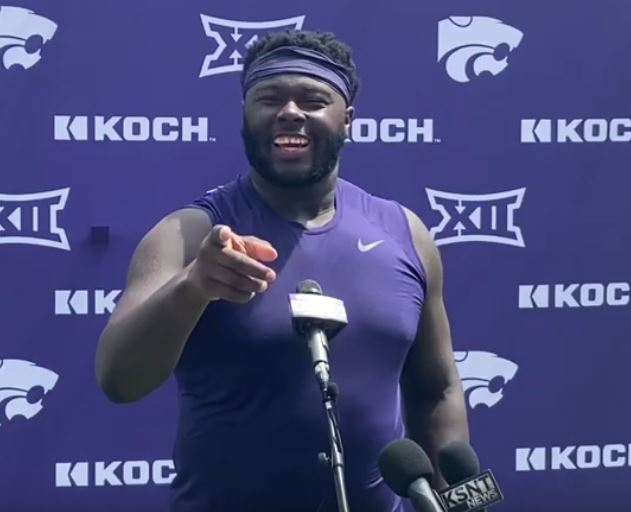 Defensive coordinator Joe Klanderman and four K-State defensive players, TJ Smith, Reggie Stubblefield, Felix Anudike, and Timmy Horne, spoke with the media on Thursday. Timmy Horne stole the show with his smile and personality. Here are some quotes of note from the press conferences today.
"The family atmosphere really, because this place is built off of family and tradition. So, once you come into Manhattan, literally, you will feel the family atmosphere and see how tight-knit everybody is around here."…Defensive tackle Timmy Horne
JM: Horne answered 10 questions from the media and he was upbeat and laughed and smiled the entire time. I instantly liked him. This is a guy who is enjoying his life and football. In the quote above he talked about how much he has already fallen in love with Manhattan in the short time he's been on campus. As they were wrapping up the interview, Horne indicated that he wasn't finished…
"Can I ask some questions, too?"…Timmy Horne
JM: Horne proceeded to point out media members, asking their name and then asking them questions.
"What's your name? Derek? What's your top five favorite cereals?"…Timmy Horne
"Frosted Flakes, Lucky Charms, Cinnamon Toast Crunch, Chocolate Krispies and Fruit Loops."…Derek Young, K-State Online
JM: I'll give him Lucky Charms and Chocolate Rice Krispies. No Apple Jacks or Frosted Flakes?
"What's your name? Grant? Ok, top three favorite movies of all time."…Timmy Horne
"I'll go Inception, Interstellar and – what's a newer movie I've seen that's really good… Man, I'll throw out The Dark Knight, too. I'll go with three Christopher Nolan movies."…Grant Flanders, K-State Online
JM: That's his three favorite movies of all time? Someone introduce Grant to some more movies, please.
"What's your name? Kellis? Are you an Avengers fan? Your top three favorite Avengers."…Timmy Horne
"That's a good one… I'll say Spiderman, Ironman, and… um… can we say Wolverine? He's in the comic version."…Kellis Robinett
JM: I think Timmy was going for the favorite Avengers from the movies. Not sure Wolverine qualifies. My three favorites are the Hulk, Spider-Man and Iron Man. Timmy had a great time during these exchanges and it appeared the media did as well. He's a very likable guy and is rising on the list of my favorite Wildcats. Here's the video if you'd like to watch:
"Tremendous, tremendous. Last year he was a good player that made splash plays in practice, but in the game situations, you were always a little nervous. Now he's the guy, and I think he's stepped into more of a leadership role. You can just tell by the way he walks, talks, act, he's going to be a good player for a lot of years."…Defensive coordinator Joe Klanderman
JM: This comment was in reference to a question about the progress of defensive end Felix Anudike.
"The only thing that's different is Wyatt Hubert is out and Nate Matlack is in. Nate Matlack has been sensational in there."…Joe Klanderman, defensive coordinator.
JM: Is he saying we're not going to miss Wyatt Hubert?
"Tim's been great. Inside, I think, we're going to be as salty as we've ever been here."…Defensive coordinator Joe Klanderman
JM: Don't you love the colorful adjectives? I can't wait to watch our "salty" defensive line!
"My first impression of Kansas State is the family atmosphere. That was the biggest thing – everybody's so tight knit, close knit. True love, honestly. I feel everybody cares to be here. That's my first impression."…Cornerback Reggie Stubblefield
JM: It sure sounds like everyone on this team gets along well. Will that translate to success on the field?
"Oh, he's a dog. Khalid Duke is a dog. I look at him all the time and I'm just, 'Wow, I want to play like that,' because he plays so fast. That's what I'm trying to get my game to be like his so I can play fast through anything."…Defensive end Felix Audike
JM: Are you getting excited to watch this defense yet?
"For the third time in as many seasons, Kansas State sixth-year senior quarterback Skylar Thompson has been named to the initial watch list for the Johnny Unitas Golden Arm Award, the Golden Arm Foundation announced Thursday."…Kstatesports.com, August 19, 2021
JM: I glanced at this watch list. There are over 60 quarterbacks on it! It's still nice to see a K-State quarterback on it though.