From The Couch – The Latest Football Recruiting And Basketball News
From The Couch – The Latest Football Recruiting And Basketball News
There is quite a bit of football recruiting buzz right now since rumors are that stud quarterback recruit Avery Johnson is going to announce his college choice by the end of June and he only has two visits remaining. In basketball news, the team is practicing, but still only has a roster of eight. Can Jerome Tang get to a full roster of 12? Here's the latest regarding the K-State football and basketball programs….
JM: K-State remains the odds on favorite to land Johnson, but he had a great visit with Washington last weekend….
JM: Washington blew his socks off, huh? Well, if you read some of Johnson's quotes after the visit, I'd say that's a fair assessment.
"Every aspect of it was awesome," Johnson said. "I love the offense, and I have a great relationship with both Coach DeBoer and Coach Grubb. I had a great time with the staff and all the other recruits throughout the weekend. We had a lot of great food, got a little time to talk ball, and we got to take a tour of Seattle on a seaplane, which was an amazing experience."…Roman Tomashoff, Realdawghuskies.com, June 9, 2022
JM: Taking a tour of Seattle on a seaplane sounds really cool, but there were other reasons that the visit was impressive to Johnson….
"Even though I'm labeled as a dual-threat guy, I see myself a pass-first quarterback that makes plays with my legs where I have to," he said. "I don't want to be asked to run 10-15 times a game, I want to be a true quarterback and only run when I need to. I feel like that really fits well with the Husky offense because that's exactly the style they have in mind for me, and I won't be taking a lot of unnecessary hits."…Roman Tomashoff, Realdawghuskies.com, June 9, 2022
JM: Is that the style that Collin Klein and K-State have in mind for Johnson, too?
"I want to go somewhere where I will be developed so I can reach my goal of playing in the NFL," he said. "I also want to feel wanted by the school I commit to, and of course, I want to win while I'm there."…Roman Tomashoff, Realdawghuskies.com, June 9, 2022
JM: This is a blanket statement that would apply anywhere, so I didn't read too much into it, but I found it Interesting that he is confident that he is an NFL-caliber talent. While Johnson spoke glowingly of the Huskies, Washington isn't the only school K-State is competing with. Oregon is in the mix, too.
JM: Johnson is set to visit Oregon next weekend, June 17th. He is expected to make his college announcement sometime soon after that visit.
JM: Mettauer has a lot of offers, so I'm not sure how likely it it that he ends up coming to K-State, but he is a four-star player that is on the radar of a lot of Power five schools. I love how Klein and K-State is going after elite quarterback talent. It's nice to see.
"The narratives I'm fighting against, well, I haven't been to a bowl game and I haven't had a winning season," (Adrian) Martinez said. "Now football is a team sport, but I play quarterback and often times you get associated with those kinds of things and I want to win. I want to go play in a bowl game and I want to win a bowl game. So that was another reason why I came here. I feel like we have a great opportunity to win. And that's something if I do and I play the right way, I know we're gonna have an opportunity to do. Part of that's not turning over the ball as much, part of that is being accurate all the time, making the right decisions. And that comes with playing quarterback, yes, but I feel confident in the system and with the progressions I've made that I'll be able to take that next step."…Nick Kosko, 247Sports, June 9, 2022
JM: There's a lot to digest here, but I find it comforting that he mentioned what he needs to improve….. not turning over the ball as much and being accurate all the time. Those are the two main things I noticed when watching him play at Nebraska, and part of the reason I was not nearly as excited as many others when he transferred to K-State. It remains to be seen how successful he can be, but one thing is for sure. The kid is not afraid to work at getting better, and that is a good baseline to have.
JM: I like Van Malone and enjoyed watching his TEDX talk. I thought I'd share it here in case you want to check it out. In general, I'm impressed with the entire football coaching staff. If they can amp up their level of recruiting, some special things could happen.
JM: Brown was at a football camp at Florida State that Van Malone attended. Malone was impressed with his performance and offered him a scholarship. These guys are working hard recruiting.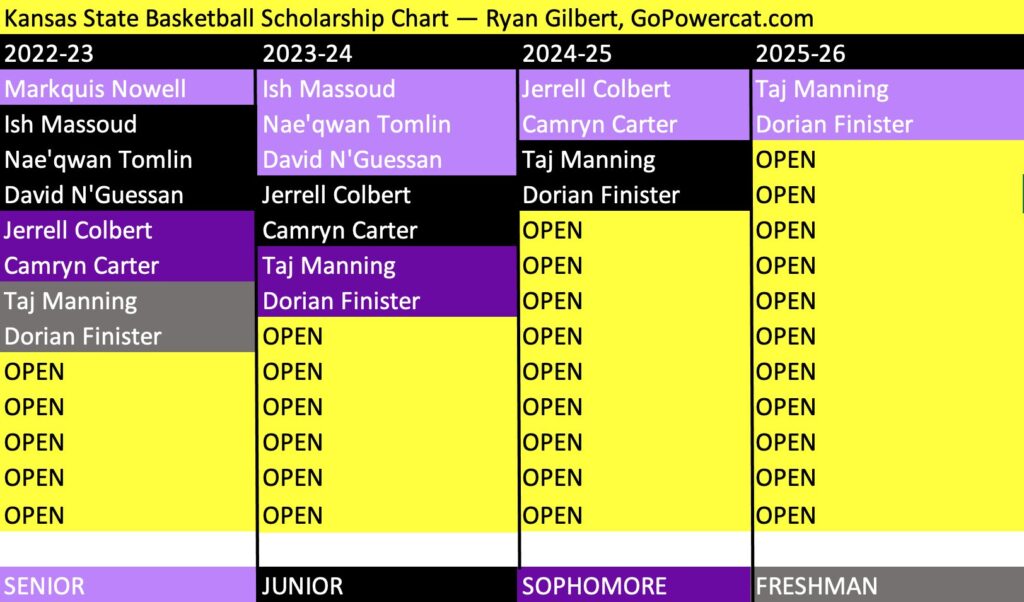 JM: Ryan Gilbert posted this chart on Twitter and it helps illustrate K-State's basketball roster out four years from now. Jerome Tang has a roster of eight players at the moment. I hope he can get a full roster in place for this fall. I'm sure he'll make it happen, but I hope we won't be in a situation like Norman Dale was in the movie Hoosiers…
"We get four hours (of practice) a week," Tang says prior to Manhattan Catbackers on Monday. "We'll see how many minutes they can go before they pass out."…Scott Fritchen, Kstatesports.com, June 10, 2022
JM: What exactly did Tang mean by this? See below….
JM: One thing is for sure. It looks like this team is gonna be in shape!
---
If you are on social media, please follow me on Twitter at https://twitter.com/joemathieu and Facebook at https://www.facebook.com/kstatejoe. Thanks!