From The Couch – Skylar Is Back!
From The Couch – Skylar Is Back!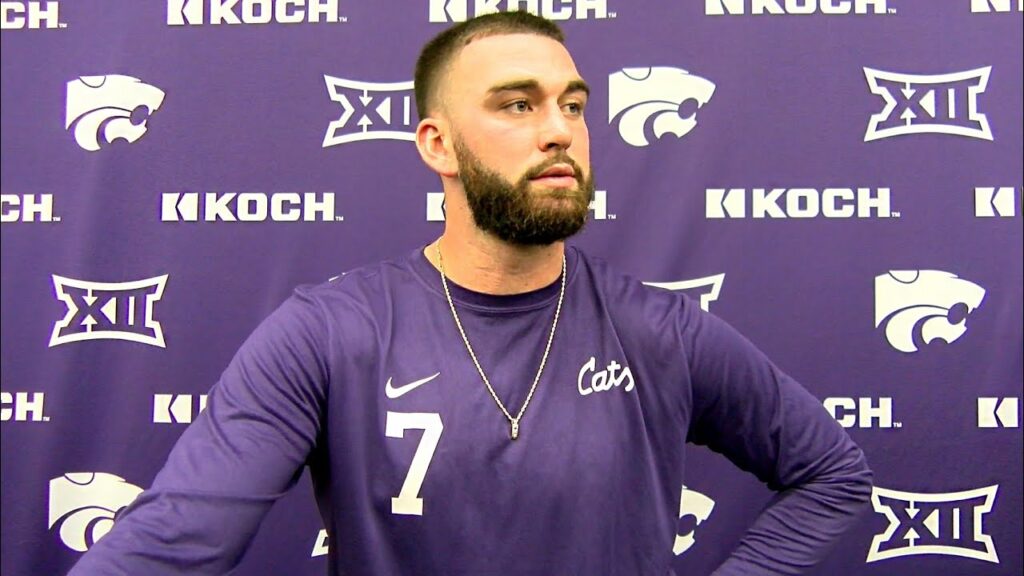 Skylar Thompson returned at quarterback yesterday in a 37-31 loss against the Oklahoma Sooners. There is a lot to unwrap about the game, so this is a longer read than usual. Enjoy….
"Very loud, to say the least, here in Kansas."…Aaron Goldsmith, FoxSports
JM: The stadium was pretty loud throughout the game. It was nice to hear the television announcers mention this to open the broadcast.
"Skylar Thompson will start and he has single-handedly torched this Sooner defense the last two years."…Aaron Goldsmith, FoxSports
JM: Skylar is back! Most fans were pleasantly surprised to see him run out onto the field at the start of the game. The entire stadium roared and the place shook!
"Oklahoma knows this place is JUICED today!"…Brock Huard, FoxSports
JM: The student section was definitely juiced. They never let up on the Sooners.
"I was just thinking before that carry…I'd be careful putting the third running back in right now."…Brock Huard, FoxSports
JM: K-State looked great on the first drive of the game. Skylar Thompson especially looked great. Calm, cool, and collected in the pocket. They marched down the field and had a first and 10 on Oklahoma's 14-yard line. Thompson handed off to Jacardia Wright, who fumbled the ball to Oklahoma. They returned it to the K-State 19. K-State's defense held Oklahoma to a field goal, but this was potentially a 10 point swing in a game that ended up being a six-point margin. Wright wrapped up the ball on the carry, but obviously not good enough. I've been calling for more carries for Wright, but this was a bad mistake by him early in the game.
"Touchdown, K-State!"…Aaron Goldsmith, FoxSports
JM: K-State and Skylar Thompson looked fantastic on their second drive as well, scoring on a 4th and goal from the two-yard line on a pass from Thompson to Phillip Brooks to take a 7-3 lead. Klieman/Messingham and company were very aggressive in their playcalling throughout the game, which I loved. They wanted to win and knew what they needed to do to get it done.
"In for the touchdown, Jeremiah Hall!"…Aaron Goldsmith, FoxSports
JM: Oklahoma answered K-State's touchdown with a touchdown drive of their own to go up 10-7.
"Taiten Winkel lining up for a 30-yard field goal try to tie it up. It is GOOD! Tied at 10."…Aaron Goldsmith, FoxSports
JM: K-State once again moved through the Oklahoma defense like a hot knife through butter on their third drive of the game. The drive was stalled by a couple of penalties, including a baloney personal foul penalty on Josh Rivas. K-State had a first and goal, but Skylar Thompson was sacked and K-State had to settle for the field goal. I felt pretty good going into halftime tied at 10.
"Oklahoma has had three possessions. They have found points each time. Brkic's second field goal today."…Aaron Goldsmith, FoxSports
JM: So much for that 10-10 halftime tie I was happy with. Speaking of a hot knife through butter, Oklahoma's offense treated K-State's defense like that most of the day. Oklahoma drove right down the field to kick a field goal to go up 13-10 going into halftime.
"Pickup Details for Your Darren Sproles Bobblehead.. There will be two pickup locations available on Saturday. Pickup locations will be: Gate A | 11:30am through 30 minutes after the game."…Email from K-State Sports
JM: I only include this so I can tell my halftime story. Our seats are in the south endzone and Gate A is on the opposite side of the stadium from us. After Oklahoma's field goal, my son and I decided to go to the bathroom to beat the rush. When I got up to the concourse, I noticed each line for concessions was about 25 people deep. It was a madhouse. My son asked if I thought we'd have time for a beer so we decided to go check. The beer garden in the southeast corner was jammed with people and the line to get in was about 100 people deep, maybe more. There was no way we'd be able to get in there. So I mentioned going to pick up the Darren Sproles bobblehead and we headed that way. The beer garden on the west side was a madhouse as well and the concourses were a mob of people, mostly because of the long concession lines. We tried to wade our way through the crowd as fast as we could and finally made it over to Gate A. Getting the bobblehead wasn't a problem, but there were only three minutes left of halftime by the time we got it. We decided to walk around on the east side to see if we could make it back to our seats quicker. Well, it was as bad or worse on that side.
I tell this story because we walked around the entire stadium during halftime and, granted, the game was a sellout but the lines for concessions were unbelievably long. Then I see fans on social media mention that people aren't back in their seats after halftime. I don't really think they are leaving the stadium as a lot of people think. The lines for the bathrooms and concessions are so long that I think people are just getting stuck in line for too long and not making it back to their seats before halftime is over. Not only were the K-State seats pretty empty at the start of the second half, but the Oklahoma sections were also pretty empty. I'd be interested to hear your thoughts about this, but this is just my observation. K-State needs to be more efficient with its concessions. Also, what's the point of having a beer garden if it is overflowing with people and even if you get in you have to wait in line for 30 minutes to get a beer? Anyway, I digress. Back to the game…
"He's in for the touchdown! Kennedy Brooks!"…Aaron Goldsmith, FoxSports
JM: Oklahoma receiving the second-half kickoff was not a good thing for K-State. It only took Oklahoma a little over three minutes to drive down the field and score a touchdown to go ahead 20-10. It seemed like K-State's defense was not even out there.
"That will be the first punt today for K-State."…Aaron Goldsmith, FoxSports
JM: K-State answered OU's touchdown by going three and out. These three and outs happen every game at the most inopportune times. To me, it is one of the themes that is defining Courtney Messingham's term as offensive coordinator at K-State.
"They are ruling this a touchdown to Oklahoma. Michael Woods."…Aaron Goldsmith, FoxSports
JM: Oklahoma's knife was still red hot as they scored easily again to go up 27-10. The crowd was deflated at this point. It was so disappointing to see K-State's defense no-show the second half like they did.
"Thompson leads Deuce Vaughn into the endzone! Wildcats answer!"…Aaron Goldsmith, FoxSports
JM: Now that's more like it! The big play on the Wildcats' touchdown drive was a 54-yard pass play to Keenan Garber. They were still in it. But they had to give the ball back to Oklahoma. Or did they?
"K-STATE'S GOT IT! TY ZENTNER THE KICKER!"…Aaron Goldsmith, Fox Sports
JM: Prior to the kickoff, my son turned to me and said "I think he's gonna onside kick it here." I thought it was a GREAT call! However, the ensuing sequence of events and the controversy surrounding this play was what everyone was talking about after the game.
"The ruling on the field is the kick went 10 yards and was legally recovered by the kicking team."...Head official
JM: Alright!
"The previous play is under further review."…Head official
JM: Uh-oh.
"After reviewing the play, the ruling on the field stands. First down, Kansas State."…Head official
JM: Alright!
"Oklahoma is challenging the ruling on the field that the kicker did not..that the kicker kicked the ball twice, therefore it would be illegal touching. The play is under further review."…Head official
JM: Uh-oh. We didn't see a clear replay on the stadium monitors like you did at home. It is obvious that Zentner double-kicked it, first with his toe, and then it hit his heel. The question is: Can you review a play twice? Opinions vary. The replay officials were on our end of the field looking at the video and Chris Klieman was in their faces SCREAMING at them. They never did show this on the broadcast, because they kept showing the replay over and over. He had to be calmed down and separated by other officials and some of his coaches. I loved his fire and passion, but if he was a basketball coach he would have been teed up and likely ejected.
"Upon further reviewing the play, it was determined the kicker kicked the ball immediately after it came off the tee. It was illegally touched. Therefore it is Oklahoma's ball."…Head official
JM: Uh-oh. Can a play be reviewed twice? From the college football rulebook…"A head coach may not challenge a ruling in which the game was stopped and a decision has already been made by the replay official." According to this, it was not legal for Lincoln Riley to challenge this play. Unfortunately, the Big 12 officials had a different take….
"Once the announcement occurs, the review of the play is complete, unless late-arriving information shows it is an obvious error. We reviewed the initial aspect of where the ball was touched by the kicker in attempting to cover the kick. The second aspect of the kicker making two separate contacts of the ball was discovered after the announcement was made. By case book ruling we corrected the obvious error."..Greg Burks, Big 12 officiating coordinator.
JM: Case book ruling? More like "BS book" ruling. I think they're covering their butts on this one. That being said, they got the call right, so I'm not losing any sleep over it.
"Underthrown and intercepted by the Wildcats! Julius Brents!"...Aaron Goldsmith, FoxSports
JM: Hey, the defense finally stopped them! K-State got the ball back anyway. Maybe some karma?
"That catch was MADE by Landry Weber!"...Aaron Goldsmith, FoxSports
JM: At first this appeared to be a conversion on 4th and 13 for K-State. Upon further review, the call was overturned as the ball clearly hit the ground. This was another key play in the game, as K-State was driving to cut OU's lead to three. Even though the pass was incomplete, it was a great diving effort by Landry Weber.
"An easy six. Jeremiah Hall has his second touchdown today!"…Aaron Goldsmith, Fox Sports
JM: Oklahoma scored a touchdown pretty quickly after the incompletion to Landry Weber to go up 34-17 and this game was effectively over. Or so we thought.
"Thompson…endzone…TOUCHDOWN! What a day for Landry Weber!"…Aaron Goldsmith, Fox Sports
JM: Skylar Thompson never panics, and neither do the rest of the Wildcats when he is running the show. As for Landry Weber, he had a great game! I was really impressed with him yesterday. He finished the game with five catches for 65 yards and a touchdown. Good to see. This touchdown cut the lead to 34-24, but they were running out of time.
Oklahoma recovered the onside kick and K-State held them to a field goal. An unsportsmanlike conduct penalty on Oklahoma and the 15-yard penalty enforced on the kickoff gave K-State an opportunity to return a kickoff. As I told my son prior to the kick, "at least Knowles will get a chance now."
"For the second straight week! 93 yards for Malik Knowles!"…Aaron Goldsmith, Fox Sports
JM: Do I have psychic abilities? Hardly. It was just a coincidence calling this one. Knowles was untouched on his return. Pretty impressive. The score was 37-31 with a little over a minute left in the game. An unsuccessful onside kick allowed Oklahoma to run out the clock to seal the win. K-State covered the spread, however, which greatly pleased Barstool Sports President Dave Portnoy…
You read that right. Portnoy won $62,300 on a $70,000 bet taking K-State against the spread. All thanks to Malik Knowles. Portnoy was so excited that he took a video of himself watching the return…
K STATE!!!!!!! pic.twitter.com/YMNhEGUFwn

— Dave Portnoy (@stoolpresidente) October 2, 2021
"It was the loudest that I've ever experienced in the stadium, and it was special."…Skylar Thompson, post-game
JM: Skylar Thompson was exceptional in this game. The gap between him and any of his backup quarterbacks is not a small one. It's a Grand Canyon-sized gap. He was 29 of 41 passing for 320 yards and three touchdowns and zero interceptions. It was obvious that the coaching staff told him not to run the ball, which is a good thing. The game was close because Skylar Thompson played. It would have been ugly otherwise.
"I asked them why they didn't notice the double kick on the first review. I don't know. I don't know. I'm just really frustrated."…Chris Klieman, post-game
JM: I think all K-State fans are as frustrated as the head coach was, but the defense wasn't good enough to beat Oklahoma yesterday. The game shouldn't come down to one play.
I have a lot of confidence going forward with Skylar Thompson running this team. Let him drop back and pass it, limit him in the running game and keep him healthy. As long as he stays healthy, I see a bowl game on the horizon, and maybe a good one.
---
If you are on social media, please follow me on Twitter at https://twitter.com/joemathieu and Facebook at https://www.facebook.com/kstatejoe. Thanks!