From The Couch – Injuries Are Too Much To Overcome In A 38-28 Loss Against TCU
From The Couch – Injuries Are Too Much To Overcome In A 38-28 Loss Against TCU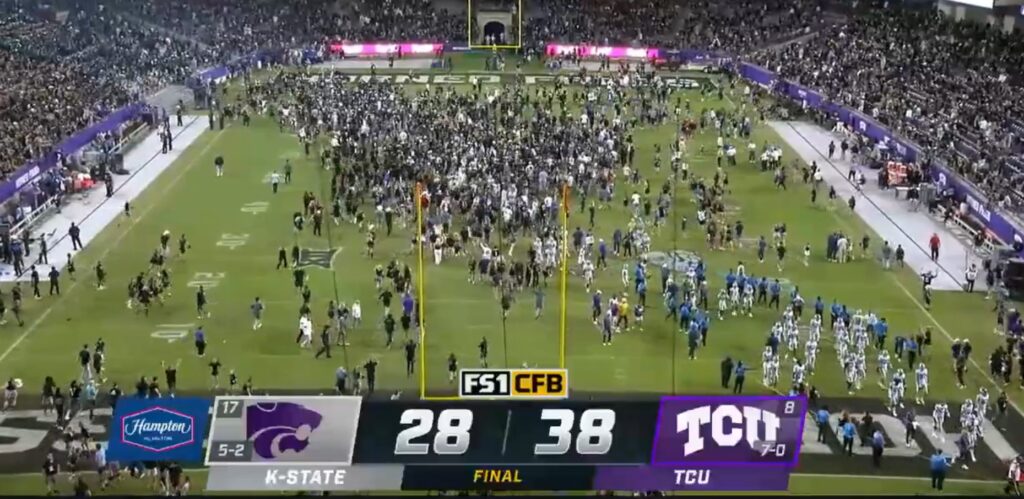 K-State gave it a valiant effort in a 38-28 loss to eighth ranked TCU on Saturday night, but couldn't overcome injuries to a lot of key players throughout the course of the game. Starting quarterback Adrian Martinez got injured early on and Will Howard came in to replace him. Howard was injured later in the game and third string quarterback Jake Rubley was forced into action for a time until Howard came back in the fourth quarter. There were injuries to cornerback Julius Brents, linebacker Daniel Green, safety Josh Hayes, tight end Ben Sinnott, and perhaps some others I may be forgetting. Deuce Vaughn went to the locker room in the first half, but came back to play in the second half. I'm not sure I recall a team getting decimated by injuries like this one did last night.
I've always hated the injury excuse. It may be justified, especially in this game, but I still hate it. K-State still had their chances to win the game despite all of the injuries. They lost by 10 points and missed two field goals at key times in the game that would have made it a one possession game. There were plenty of bad play calls and decisions that, had they gone a different way, might have resulted in a different outcome.
Chris Klieman, to his credit, did not blame injuries for the loss…
"We beat ourselves We didn't make enough plays and in a tight ball game with two really good football teams, it comes down to making plays, and I thought they made more the second half — we obviously made more in the first half — but the second half just got away from us."…Chris Klieman, post-game
JM: K-State did not score in the second half of the game. In that half, the offense was mostly stagnant with Will Howard and Jake Rubley behind center. Kicker Chris Tennant missed two field goals, both in the second half.
"Will Howard played really well tonight. It was a game that if a helmet popped off we would've gone with Jake, but when we knew Adrian wasn't going to come back this was Will Howard's game. He made some big-time plays."…Chris Klieman, post-game
JM: Howard came into the game on the second possession in relief of Adrian Martinez and played great. He led four straight touchdown drives, but couldn't get much of anything going after that. He finished the game with 225 yards passing, two touchdowns passing, one rushing touchdown, and an interception.
TCU struck first on a 65-yard touchdown pass to Darius Davis. Davis showed his speed on the touchdown, as he outran the K-State secondary to put TCU up 7-0.
JM: K-State answered with a four play, 74-yard touchdown drive capped off by a 28-yard touchdown pass from Will Howard to Kade Warner, who made a spectacular catch on the play.
JM: TCU then answered with a four play, 74 yard drive resulting in a 43-yard field goal by Griffin Kell to take a 10-7 lead.
JM: K-State scored its second straight touchdown on an 11 play, 48-yard drive when Will Howard scored on a quarterback sneak from the one-yard line to take a 14-10 lead.
JM: After forcing TCU to punt, Howard led K-State on a four play, 55-yard touchdown drive that ended with a nine-yard touchdown pass to Sammy Wheeler.
JM: After forcing TCU to a three and out and a punt, K-State got the ball back and Deuce Vaughn scored on a 47-yard touchdown run to give K-State a 28-10 lead.
JM: On TCU's next possession, K-State's defense held the Horned Frogs on a fourth and five and the Wildcats got the ball back. It was clear that TCU's defense adjusted to what K-State was throwing at them and they forced the Wildcats to punt after a three and out. This series was a clear momentum shift in the game, as TCU got the ball back and drove down the field for a touchdown right before halftime to cut the lead to 28-17.
JM: TCU kept that momentum going to start the second half, as they drove 77 yards in 13 plays for a touchdown to cut the lead to 28-24. The Kendre Miller touchdown run ending the drive is the only highlight I couldn't find, so instead I'll give you video of another great Deuce Vaughn run from K-State's next drive…
JM: Unfortunately, the drive ended in a missed field goal from Chris Tennant that could have put K-State ahead by a touchdown.
JM: Since K-State couldn't grab the momentum back by scoring, TCU held the momentum, scoring on the very next drive to take the lead.
JM: Will Howard left the game on the last play of K-State's previous drive with an apparent shoulder injury, which meant that third string quarterback Jake Rubley took the reigns. Two plays in, he threw across the field right to a TCU defender…
JM: K-State's defense stopped TCU on a fourth down after the interception and got the ball back on their own 21-yard line. What followed was the most perplexing series of the night for K-State. Deuce Vaughn ran up the middle on first down for a one yard gain. On second down, Vaughn ran up the middle for a five yard gain. On third and four, Vaughn ran a sweep play outside to the right and inexplicably stepped out of bounds short of the first down. Maybe he thought he had enough, but he clearly stepped out short of the marker. It was fourth and short from their own 31-yard line. TCU led 31-28 with 14 minutes left in the game. Instead of punting, Chris Klieman decided to go for it on a quarterback sneak by Jake Rubley. TCU stopped him short of the first down.
One of my beefs with Chris Klieman has been his tendency to go for it on fourth down when he doesn't have to. This was a bad decision plain and simple. TCU got the ball back in great field position. What did they do with the opportunity that was given to them? They scored a quick touchdown to go ahead by 10 points, which ended up being the final margin of victory. Maddening.
JM: After the TCU touchdown, Will Howard came back into the game and led K-State on a drive that got the Wildcats into field goal range. On third down deep in TCU territory, Howard missed a wide open Kade Warner in the end zone that could have cut the lead to three points with eight minutes left in the game. Instead, they had to settle for a field goal. Chris Tennant missed the 40-yard attempt off the post.
Tennant is now nine of 14 on field goals for the season, a 64.3% average. That's not good enough, especially when there are so many close games in the Big 12 conference. K-State needs to do something about the kicker situation. If Tennant is the best they have, they're going to have some problems in upcoming games.
JM: The game was effectively over at this point. K-State got the ball back one more time and Howard threw an interception on the first play of the series.
Up next for K-State is a game against Oklahoma State at Bill Snyder Family Stadium at 2:30 PM that will be broadcast on Fox. They need to get healthy fast if they want to have a shot at beating the Cowboys. If they don't, it could be another long day for the Wildcats.
---
Follow me on Twitter at https://twitter.com/joemathieu or Facebook at https://www.facebook.com/kstatejoe