From The Couch – Markquis Takes Manhattan
From The Couch – Markquis Takes Manhattan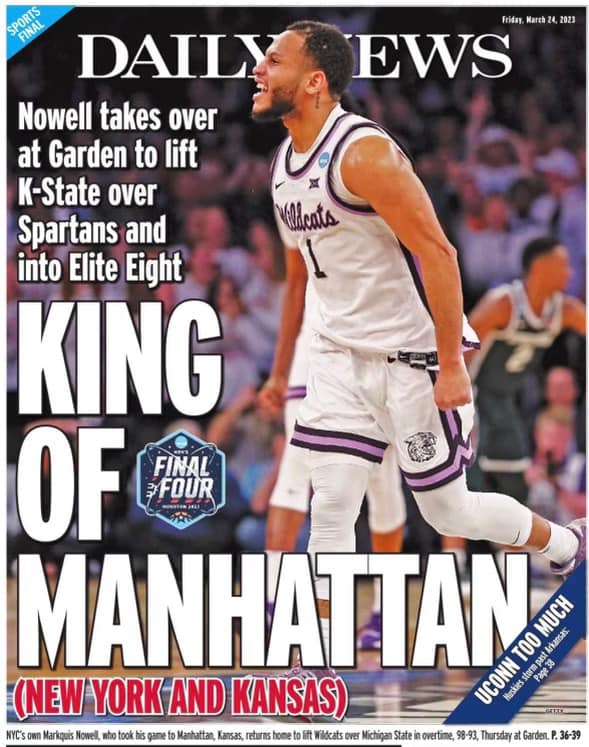 K-State advanced to the Elite Eight after a thrilling 98-93 overtime victory over seven seed Michigan State last night. Markquis Nowell starred once again for the Wildcats, scoring 20 points, setting an NCAA tournament record with 19 assists, and adding five steals. Keyontae Johnson had 22 points and Ish Massoud had his best game in a K-State uniform, scoring 15 points on four of six shooting from three point range.
Some are calling this the best NCAA tournament game they have ever seen. For me, it may have been even better than the K-State/Xavier double overtime Sweet 16 classic in 2010. I was living and dying with each possession because I knew the game was going to go down to the very last possession and that's what happened. Both teams played at a high level and it was a lot of fun to watch.
Here is what they were saying after the game, along with some highlights…
JM: The television broadcast repeatedly showed Isaiah Thomas and Michigan State legend Mateen Cleaves in the stands during the game. Markquis Nowell noticed them as well. This is the stuff of legend. Rich Eisen spent a good deal of time talking about the play on his show today. It's worth a listen…
JM: And for good measure, there is another angle of it. Keyontae Johnson was asked about Nowell after the game and likened his performance to something you'd see on a video game.
JM: Jerome Tang has beaten two legendary coaches in a row in John Calipari and Tom Izzo. Izzo seemed a little irked after the game, and even said that K-State was "lucky."
JM: Sure, you could say that a couple of the three pointers, one by Markquis Nowell and the other by David N'Guessan, trying to beat the shot clock were luck, but that's what happens all the time in these games. I agree with the poster below regarding Izzo's comment…..
JM: What can I say, it got me to laugh.
JM: Markquis Nowell is the star of this tournament and everyone is taking notice…
JM: It's been a while since I've heard from Muggsy Bogues! Giving a shout our to "the little guy!"
JM: I'll admit that when Florida Atlantic upset Tennessee I had instant flashbacks to Butler and Loyola Chicago. Florida Atlantic is a good team and this game scares me a bit. I'm glad to hear there is an awareness by the players that it's time to get over the Elite 8 hump and get K-State basketball back to a Final 4.
JM: Nowell made the back page of the New York Post and the New York Daily News. The back page of these newspapers is a huge deal, because the back page is really the front page of the sports section. The New Yorker is getting a lot of love in his home town.
JM: Nowell and Johnson have been spectacular, but K-State is in the Elite 8 because of the play of Ish Massoud. He has stepped up these last two games and has hit HUGE shots at key times in each game. His 15 points yesterday were monstrous. If Ish missed the shots that he made, K-State likely loses to Kentucky and Michigan State.
And finally, Isaiah Thomas recorded a message for Markquis Nowell…
JM: Anyone else feel that following K-State basketball this season has been like watching an inspirational Hollywood blockbuster movie? It has seemed that way to me. One more victory against Florida Atlantic tomorrow night and K-State will be in its first Final Four since 1964. I say it's about time.