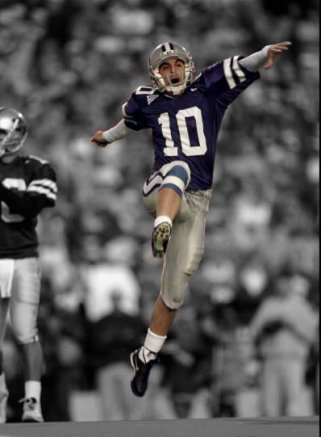 From The Couch – K-State Ring Of Honor Member Martin Gramatica
From The Couch – K-State Ring Of Honor Member Martin Gramatica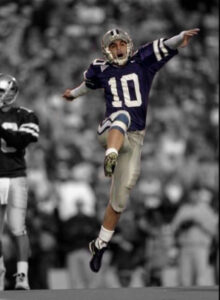 Martin Gramatica was added to the Kansas State Football Ring of Honor in 2008. He is undoubtedly the best kicker in K-State history and arguably one of the best kickers in NFL history. He was inducted into the Kansas Sports Hall of Fame in 2003 and the Kansas State Athletics Hall of Fame in 2016. This was a lot of fun for me to write and I hope you enjoy learning a little bit more about Martin Gramatica.
"Gramática was born in Buenos Aires, Argentina. At the age of nine, he moved with his family to the United States. The family settled in LaBelle, Florida, east of Fort Myers. He was only interested in playing soccer at LaBelle High School, but his kicking precision attracted the attention of the football coach of the school. He invited Gramática to try out as the team's kicker."…From "Ole," a sports newspaper in Argentina, February 11, 2009.
JM: Gramatica played only one year of high school football, his senior year. He was 8 of 10 on field goals and kicked 22 extra points. His longest field goal was 52 yards. This might be one of Bill Snyder's greatest recruiting "finds."
'"I always tell people, I thank God we moved to the United States,' Gramatica said. 'From day one, we were fueled by the opportunity this country gave us. In another country, you can work as hard as you can, and you still might not get a chance."'…Amy Rolf, Hyatt, September 26, 2016
JM: This is a great story of the American Dream that probably doesn't get told enough.
"When it was time for college scouts to come around, Gramatica was on his own. No one at his high school had ever gone through the process of appealing to schools for athletic scholarships, so he had to figure things out for himself. He made a VHS tape featuring 8 of his 10 field goal attempts and sent them out to schools — and then he waited.
'I did get some calls but none were scholarships,' he said.
Then Kansas State came calling with a full-ride scholarship."…Amy Rolf, Hyatt, September 26, 2016
JM: I had to do some more digging to try and figure out exactly how Gramatica ended up at K-State. Luckily, an article in Forbes magazine provided the answer…..

"The spring following his lone season, and very late in the recruiting process, Gramatica worked out for a high school coach in Naples, about an hour southwest of LaBelle. The coach knew then-Kansas State co-defensive coordinator Jim Leavitt, whose recruiting territory included southwest Florida and whose Wildcats needed a kicker. One thing led to another and Gramatica, who had a little interest from Notre Dame, was on his way to the Little Apple in the summer of 1994."…Tom Layberger, Forbes, October 16, 2020
JM: Just another example of "it's not what you know, but who you know" in the wild world of recruiting.

"He played two so-so seasons, and then he tore his ACL. The injury required surgery and a year of rehab, meaning he sat out for an entire season. In retrospect, he knows the injury made him a stronger player — probably due to all the time he spent in the weight room during rehab.
'If it wasn't for that knee injury, I probably would have just had an average career,' he said."…Amy Rolf, Hyatt, September 26, 2016
JM: Gramatica's knee injury was the key to his eventual success and I found it referenced in quite a few of the articles I read about him.
"During his last two collegiate seasons, he earned the nickname "Automatica," because fans said it was a given that his kicks would turn into field goals. Perhaps most notably, he kicked a 65-yard field goal, setting a new record for NCAA field goals without the use of a kicking tee — a stat that made him a stand-out during the NFL draft."…Amy Rolf, Hyatt, September 26, 2016
JM: Ah, yes, "Automatica." One of the best sports nicknames ever.
"When Kansas State's Martin Gramatica lined up for a 65-yard field goal attempt at the end of the first half of what would be a 73-7 rout of Northern Illinois on Sept. 12, William Gramatica
stood transfixed in front of his television in La Belle, Fla., as his wife, Laura, fled the house. "She couldn't watch, and I couldn't breathe," says William. Though their son was attempting
what would be the longest field goal ever kicked in college or the pros without a tee (the use of which was banned by the NCAA in 1989), you would think Laura and William would have known better than to get nervous. After all, Wildcats fans don't call Martin "Automatica" just to be cute."…Sports Illustrated, October 12, 1998
JM: Gramatica made that kick, an NCAA record to this day.

"He had a banner year in '97, making 19 of 20 field goals–including three of more than 50 yards–and 37 of 38 extra points. He became only the fourth Wildcat to be named an All-America and the first to win a major honor, earning the Lou Groza award as the best placekicker in college."…Sports Illustrated, October 12, 1998
JM: Gramatica was the best kicker in the NCAA at the time and second place wasn't even close. He was so good that Sports Illustrated was writing feature articles about him, which was a big deal at the time.
"Gramatica connected from 30, 45, 36 and 26 yards and broke the record he'd shared with several others as the Wildcats beat their state rivals for the sixth consecutive year. Gramatica's 18 points also broke the Kansas State's record for a kicker.
'I'm just glad I could help the team out. But I'm not going to be happy because I also missed two field goals,' he said."…CBSNews.com, October 31, 1998

JM: Gramatica still holds the K-State record for scoring in a game by a kicker. I was curious what other K-State records he holds, so I glanced at a copy of the 2021 media guide. Hope this blog has enough space to list them all….
-Points in a game (18)
-Points in a season (135)
-Points in a career (349)
-Extra points in a game (9) (tied)
-Extra points in a season (69)
-Extra points in a career (187)
-Consecutive extra points made in a season (69) (He didn't miss one in 1998.)
-Most 50-yard field goals in a game, season, and career
-Field goal percentage in a season (1997)
He is also at the top of the list in the number of field goal attempts for a game, season, and career.

"It should be noted that he treats every extra point as though it were a World Cup-winning goal. After each successful kick, Gramatica leaps into the arms of his holder, James Garcia, then
jumps down and dances around the field. "He doesn't do that for himself–he does it because he has helped the team," says Wildcats coach Bill Snyder."…Sports Illustrated, October 12, 1998
JM: I can't be the only one that chuckled at the over-the-top celebration every time he made a 30-yard field goal. It was a big deal to him.

"Martin credits the family's kicking success in part to an unusual backyard fixture: a set of goalposts his father put up on the Gramaticas' 15-acre farm a few years ago. The uprights,
two feet narrower than regulation, stand between a soccer pitch and a cow pasture–"My sons should never complain about bad field conditions," says William, a restaurateur–and are
defended on one side by a 10-foot-high bush that approximates a leaping blocker."…Sports Illustrated, October 12, 1998
JM: That worked out pretty well, didn't it?

"Not only did Gramatica win a Super Bowl, he was instrumental in the Buccaneers' 48-21 victory over the Raiders in 2003. He scored 12 points, tied for the team lead, and kicked the go-ahead field goal in the second quarter.
It was part of a five-year career Gramatica enjoyed with the Buccaneers after being selected by the team in the third round of the 1999 NFL Draft out of Kansas State."…www.buccaneers.com, January 16, 2015
JM: How many college kickers get drafted? And how many kickers get drafted in the third round or higher? Not many.

"Now, Gramatica owns his own business building prefabricated homes, and he heads up a foundation that builds houses for wounded veterans."…Amy Rolf, Hyatt, September 26, 2016
JM: Check out the Gramatica Family Foundation. Very cool!

"'We come from a country that does not have near the amount of freedoms that we have in this country,' he said. 'We appreciate those freedoms and the men and women who have given their lives for those freedoms. This is a way to say 'thank you' and show our military how much we appreciate everything they do for us."'…Tom Layberger, Forbes, October 16, 2020
JM: What an awesome message.
"The foundation is among many endeavors that keep the 44-year-old Gramatica busy. He and his brothers, each a Tampa resident, also founded Gramatica SIPS International. The 12-year-old Structural Insulated Panel Systems firm provides a full line of services in promoting environmentally-friendly building materials, which have been used to help the foundation.
Even with his business interests, the husband and father of three (ages 8 to 14) still gets his kicks coaching his children's soccer teams. He is also an analyst on the Tampa Bay Buccaneers' Spanish radio broadcasts and has a radio show offering opinions and commentary on the team with which he began his NFL career."…Tom Layberger, Forbes, October 16, 2020
JM: Gotta admit, I'm pretty envious of the Gramatica family.
Gramatica played in the NFL from 1999-2008. He played six years with the Tampa Bay Buccaneers before a leg injury sidelined him for the 2005 season. He ended his career playing for the Indianapolis Colts, Dallas Cowboys, and New Orleans Saints.
I'll leave you with a fun video from 2004 of Martin and his brother Bill, who also played in the NFL, featured on a Tampa Bay news station. They had a competition kicking footballs into a boat in the Hillsborough River. This is really good and got me to laugh a couple of times.
—————————————————————————————————————————–
It looks like I'm not going to get through the entire ring of honor before football season gets here. I've been way too busy lately. Oh well, it'll give me something to keep working on next spring and summer. Up next on the list is Terence Newman.
Thanks for reading. Till next time….