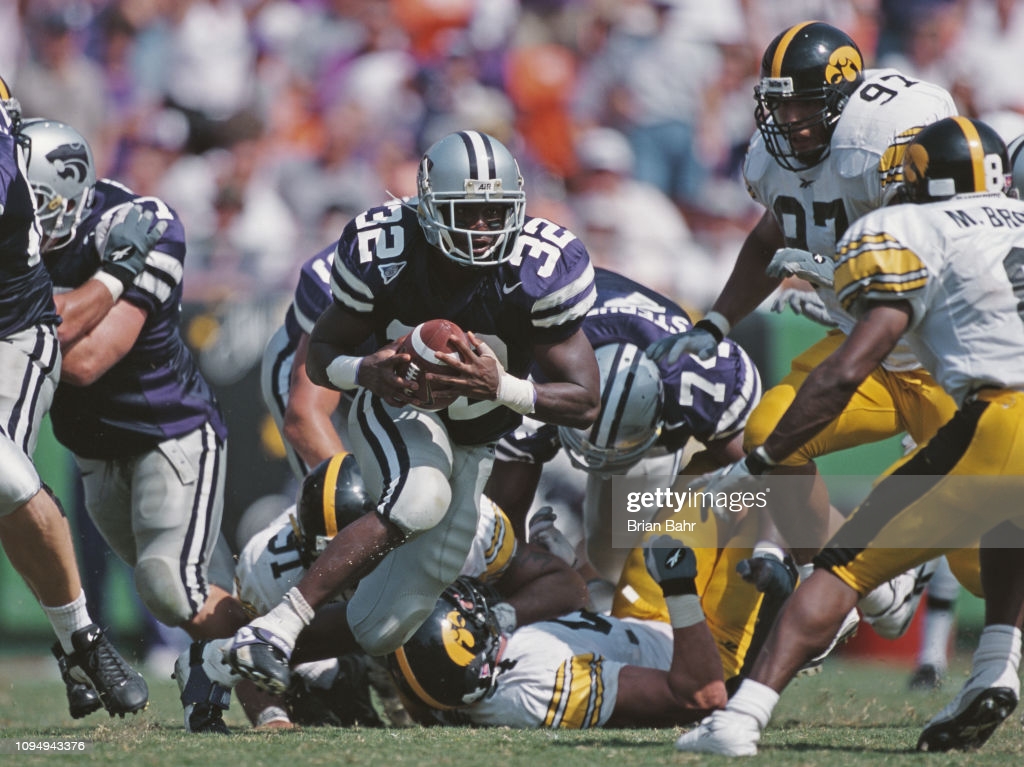 From The Couch – K-State Ring Of Honor Member David Allen
From The Couch – K-State Ring Of Honor Member David Allen
Full disclosure: David Allen is one of my favorite Kansas State football players. I own way too many K-State football jerseys, but the first one I bought was number 32 because of David Allen. He was added to the K-State football ring of honor in 2008.
Writing this article was a lot of fun, especially watching the video of all of his touchdown returns. To this day, he remains near the top of the college football's all-time punt return touchdown list. Hope you enjoy this look back at the career of K-State great David Allen.
"Allen made a name for himself in just four short years at K-State, becoming one of the most dynamic return men in the history of college football. It wasn't just his ten K-State records that he's remembered for, however. Allen strived not only to be the best football player he could be, but also the best person he could be in every aspect of his life.
"I really tried to emphasize being a great role model, friend, teammate and helpful individual in the community," Allen told K-State Athletics in 2008."…Kansas Sports Hall of Fame
JM: Allen was voted into the Kansas Sports Hall of Fame in 2018.
"Allen drew the attention of several Big 12 Conference schools in the area, including Colorado, Missouri, Nebraska and Kansas, but ultimately Kansas State was the place that felt the most like home and presented the most opportunity for growth and development as a team and as an individual."…Kansas Sports Hall of Fame
JM: Colorado and Nebraska were still national powers when Allen graduated from Liberty, Missouri High School in 1997. He chose K-State because it "felt the most like home." I have that in common with him. That's the reason I chose to go to K-State back in 1991.
"Allen attended Kansas State University, and played for the Kansas State Wildcats football team from 1996 to 1999. He was recognized as a consensus first-team All-American as an all-purpose athlete and kick returner in 1998. He returned seven punts for a touchdown in his college career, which tied the NCAA record in 1999."…Wikipedia
JM: Allen is still tied for fourth on the NCAA all-time punt return touchdown list. Here's the list…

Allen still ranks at or near the top in every punt return category in the K-State football record books.
Punt return yardage in a game:
That's 43 yards per return in that game!

Punt return yardage in a season: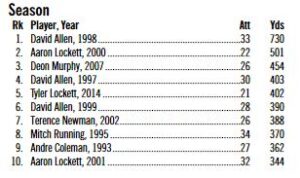 This record will likely never be broken.

Punt return yardage in a career:

Neither will this one.
Longest punt returns in K-State history: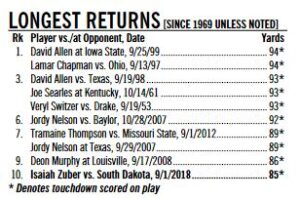 The unwritten football rule of "never catch a punt inside the 10 yard line" needs an asterisk that says "unless your name is David Allen."
Highest punt return average in a season:
In case you missed it, David Allen is on that list three times.

Highest punt return average for a career: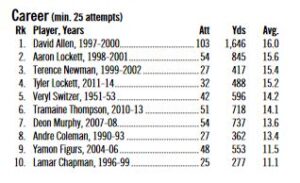 Remember when the K-State defense was so good that they forced their opponents to punt nearly all the time? 103 attempts? Wow.
Total punt return touchdowns:
I'm not really going out on a limb with my belief that these records will never be broken. Allen missed half of the 2000 season with an ankle injury or he might have had even more return touchdowns. Simply an amazing talent.
"A 2-yard touchdown run by Helm drew Kansas State to 28-14 late in the third quarter and Allen silenced the Iowa State crowd with his punt return 3 1/2 minutes later.
Catching the ball at his 6, Allen started left then turned straight upfield. Once he eluded a futile dive by punter Carl Gomez at midfield, Allen was home free. It was his sixth career punt return for a touchdown, one short of the NCAA record, and matched the longest in school history.
Chapman ran back a punt 94 yards against Ohio University in 1997.
'It was a great effort on David's part,' Snyder said. 'That's what we try to convey to our punt return team – if they stay on their blocks for a while, you've got a guy back there who can do some good things."'…Associated Press, September 25, 1999.
JM: At the time, this was the biggest comeback of Bill Snyder's career. Backup Adam Helm replaced Jonathan Beasley and Allen's punt return touchdown helped swing momentum in K-State's favor. I was able to find a couple of quotes from Bill Snyder about David Allen and he's never overly complimentary about him. This is about as complimentary as it gets.
"In three NFL seasons, Allen appeared in twenty-three regular season games, and compiled 506 punt return yards and 1,513 kick return yards."…Wikipedia
JM: Allen was signed by the San Francisco 49ers as an undrafted free agent in 2001 and was signed by the Minnesota Vikings in 2002. He played for the Jacksonville Jaguars in 2003 and 2004 and the St. Louis Rams in 2005. He finished his career in the CFL with the Calgary Stampeders in 2005 and 2006.
John Kurtz did an excellent video compilation of all of David Allen's punt return touchdowns. I consider this one of the best videos on YouTube! Check it out!
————————————————————————————————————————–
Thanks for reading. Up next on the list of ring of honor inductees is Martin Gramatica.
Till next time…