From The Couch – K-State Dominates SEMO
From The Couch – K-State Dominates SEMO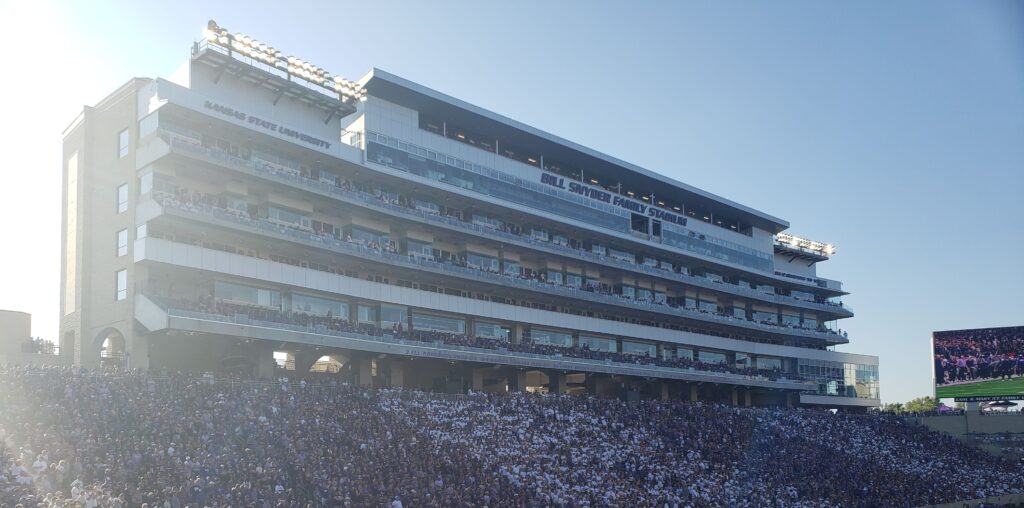 K-State football took care of business in their first game of the 2023 season, beating Southeast Missouri State 45-0. Just how dominant was this performance?
K-State's offense had 588 yards, the program's 5th most in history. It was the most yards from a K-State team since gaining 658 yards against North Texas in 2005.
The 45-0 victory was K-State's most dominant shutout win since a 52-0 victory against Bowling Green in 2019.
K-State held Southeast Missouri State to six total rushing yards, the fewest rushing yards a K-State team has allowed since holding Texas A&M to minus 13 yards rushing in 2009.
Southeast Missouri was ranked as the number 11 team in the FCS division coming into the game, so they're no slouch, I was impressed with this performance by K-State. We even got to see freshman phenom quarterback Avery Johnson, who lived up to the hype and then some.
Here is what the head coach and players were saying after the win along with some of the plays of the game….
"I think we played 77 players, which is awesome for us to be able to tomorrow spend the whole day really looking at those basically and really looking at those graphs to see are we getting enough reps? Those kids have worked so hard all camp and deserve to play."…Head coach Chris Klieman, post-game
JM: It was nice seeing some of the younger Wildcat talent in this game, especially Avery Johnson in the second half, which I'll get to later.
"Just how exciting it is. We're all really really close friends. When Jadon Jackson scored, that was probably my highlight of the game, just what he's been through here, what he went through at Ole Miss, just to see him kind of have some success, that was big for me. Coming back and playing with Phil [Phillip Brooks] for his sixth year, we always have a great time together out there. Playing with Will [Howard], he's a good guy and the whole O-line, they're a bunch of knuckleheads. It's just a good time out there and we all have fun together."…Wide receiver RJ Garcia, post-game
JM: Here is Garcia's 37-yard touchdown reception from Will Howard…
"I definitely thought I had it early in the game but they didn't review it. That was definitely a good moment for me. Getting that first one [in the] Bill, so that was pretty cool too."…Running back Treshaun Ward, post-game
JM: Treshaun Ward rushed for 56 yards on 11 carries, and also added a touchdown pass to Will Howard. It was a solid debut as a Wildcat. DJ Giddens added 128 yards on 15 carries. It looks to me like the running game is going to be just fine. Here is Ward's touchdown run…
"Yeah, it was pretty cool. We had that play in the game plan, and I was sitting there when he called it. I was like, 'Oh man, here we go.' It feels good as a quarterback because it's like he can feel the aggressiveness from Coach [Colin] Klein And, it makes you feel good because you're like foot on the pedal and let's go do the same."…Quarterback Will Howard, post-game
JM: Will Howard had a solid game. He was 18 of 26 passing for 297 yards with two touchdowns and an interception along with a receiving and rushing touchdown. He is the 6th player in Big 12 history with a passing, receiving, and rushing touchdown in one game. Howard did it in one half. Here is the receiving touchdown from Treshaun Ward.
"We call Avery the 'golden boy of Kansas.' Just to hear the crowd chant his name, he got to run around and get in the endzone. I was definitely excited for him, especially when he got to spin it to Tre Spivey and a few of the young guys. It was a cool moment because I remember when I was the young guy and Malik [Knowles] and Kade [Warner] came out and they were trying to hype me up when I went in the game. It's kind of a weird moment because I was a little bit older than them now, but it definitely feels cool."…RJ Garcia, post-game
JM: Avery Johnson got into the game early in the second half and quite simply dominated the game. He was three of four passing for 55 yards and ran five times for 32 yards and a touchdown. He appears to have all the tools: a cannon for an arm, breathtaking speed, and a great feel for the game. He needs to put on some weight, but I think it's safe to say that K-State is set at the quarterback position for the foreseeable future.
"Well, we had called a play coming off the sideline, and we didn't get the look we liked the first time so we just lined up again in the same play. I pulled it but they had field pressure kind of just made a guy miss and that from that point, I was just walking into the endzone."…Quarterback Avery Johnson, post-game
JM: Here is video of the touchdown run. Notice how he nonchalantly cuts into the hole and walks into the end zone. This kind of athleticism is rare.
"It was awesome. I mean, the fans are great. They stayed all night, and they were loud all night. We have some of the best fans in the country so it was good to get back."…Defensive End Nate Matlack, post-game
JM: The K-State defense dominated this game. Matlack's comments about the fans is spot on. Not only was the stadium full at kickoff, it remained full most of the game. Maybe people were hoping to see Avery Johnson. If that's why they stayed, they got their wish.
K-State unveiled the 2022 Big 12 Champions sign on the stadium during pregame festivities.
Hope they have room to add "'23" after this season!
JM: We went to the beer garden at halftime and two guys came up to our table and we struck up a conversation with them. They were here from Germany to work for a week at their company in Lenexa. They had some downtime on Saturday and decided to go to a college football game since college football is really not a "thing" over there and they wanted to experience the atmosphere since they had heard so much about it. Sebastian, the guy in the middle in the picture above, bought a K-State t-shirt for the occasion. Needless to say, they were impressed with the atmosphere and were happy they came. They picked a great place to go to get the college football experience. It was great meeting them and, who knows, they may be back in the future. I think we've got a couple of new additions to "The Family."
K-State plays Troy next Saturday at 11:00 AM at Bill Snyder Family Stadium. Troy beat Stephen F. Austin 48-30 on Saturday. This game will not be easy. Hope to see you there!