From The Couch – K-State Destroys LSU In The Texas Bowl
From The Couch – K-State Destroys LSU In The Texas Bowl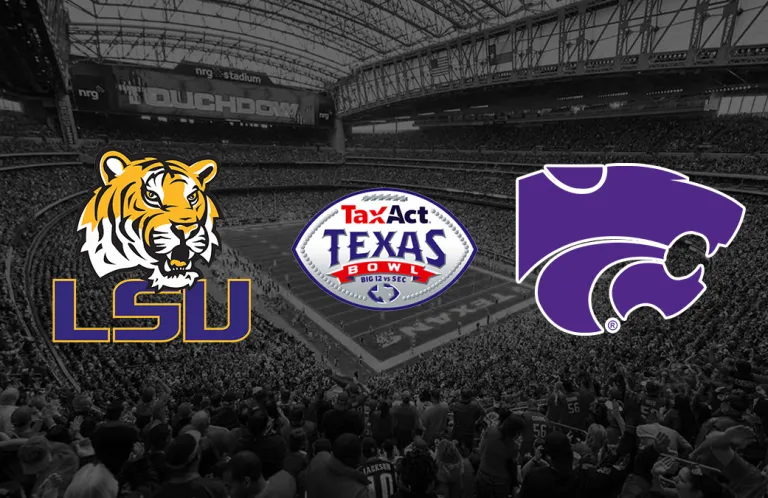 It was a lot of fun being a K-State football fan last night watching K-State beat LSU 42-20 in the Texas Bowl. K-State led 42-7 late in the 4th quarter before LSU scored two meaningless touchdowns near the end of the game. LSU was shorthanded and didn't really have a true quarterback playing, but they are still a very talented roster and K-State really took it to them. Skylar Thompson and Deuce Vaughn were spectacular for K-State, but it was a total team effort from the coaching staff and players. Here are some quotes from the head coach and the players after the game as well as a few game highlights. Enjoy!
"What a dominant performance tonight. I really felt the guys had great preparation, especially once we got down to Houston. And they were focused, they were galvanized. They were wanting to make a statement and we wanted to play and you could tell that as the game started"…Chris Klieman, January 4, 2022
JM: K-State's coaches and players were very motivated to win this game and it showed. They received the opening kickoff, drove down the field for a touchdown on the opening drive, and never looked back.
"On December 15 we got done with finals. We had our first team meeting after that and we said, 'Hey, if you're in here for this meeting and you go to practice right after this meeting you're all in till January 4', and all those guys stayed in. And that was myself and the seniors saying you're all with us. There's no opt-out. There's no bailing out. You're here with us. And that's a credit to those seniors, a credit to those leaders because that was a big game for us."…Chris Klieman, January 4, 2022
JM: This is a great attitude and I credit Coach Klieman for saying this to the team and keeping everyone on the same page. There's no question this team was close-knit and rowing the boat in the same direction.
"Phenomenal. I think you could see he (Skylar Thompson) was healthy tonight. I think the extra week helped us, playing this thing on January 4. And for him to be on point like he was and know that people were coming after him and hanging in there and throwing some strikes, he was phenomenal."…Chris Klieman, January 4, 2022
JM: Skylar Thompson looked great in the game. He threw for 259 yards and three touchdowns and for the most part looked calm, cool, and collected in the pocket.
"Our guys really got energized by our fan base and the credit goes to our fan base for how loud they were, because I think they had fun watching our guys play."…Chris Klieman, January 4, 2022
JM: The K-State crowd looked good on television. Does anyone know what the estimated attendance of K-State fans was?
"And like you guys know, him (Collin Klein) and I have been on this journey for a long time together and I was so excited to get out there and go play for him just because we know each other so well. In the flow of the game I knew what he was going to call before he called it and he just kept us attacking. His play calls didn't allow us to take our foot off the gas at all and it was just so much fun."…Skylar Thompson, January 4, 2022
JM: Collin Klein called a great game as the offensive coordinator. Every one of the many text messages I received from friends and family during the game said the same thing. If this indeed was an audition for the offensive coordinator job, go ahead and give it to him.
"I was raised that if you start something you finish it and give it everything you got and let God take care of the rest and holy smokes, I couldn't have drawn up a better way to finish."…Skylar Thompson, January 4, 2022
JM: I've always been a big Skylar Thompson fan and I love this quote. I also love that he went out on top as he did. I will miss him as K-State's quarterback.
"It's pretty big because LSU is a team you watch growing up. They're a blueblood school. They just won a national championship a few years ago and to get the opportunity to play them in a big time bowl game back in Texas and have the opportunity to play with these guys, like this guy sitting next to me, again for the last time and then come out on top is big time in the regard of playing against a top tier team and you're gonna do it with your brothers. That's why it was so big tonight."…Deuce Vaughn, January 4, 2022
JM: Deuce Vaughn was phenomenal once again. He ran for 146 yards and three touchdowns, averaging 7.0 yards per carry. He also caught two passes, one for a touchdown. Go get that Heisman next season, Deuce.
JM: This was a great catch and run by Malik Knowles. This was the touchdown on the first drive of the game.
JM: K-State made football look pretty easy for a good portion of the game.
JM: This was Knowles' second touchdown catch of the game. He finished the game with three catches for 42 yards and the two touchdowns.
JM: Deuce Vaughn went untouched on quite a few runs. Major props to the offensive line.
JM: On this run, Deuce Vaughn went untouched because of Deuce Vaughn. Amazing.
JM: I'll go back to giving the offensive line credit for this one!
JM: Michael Bishop and Vince Young had a passing competition during one of the timeouts. Nobody ever told us who won. Probably Bishop. 😉
JM: Classy move by Chris Klieman to give Skylar Thompson the "walk-off" so the K-State crowd could give him an ovation one last time. I've seen basketball coaches do this all the time, but it's rarely done during football games. Very cool.
JM: Coach Klieman was holding back the tears as Skylar was speaking. He really does love that kid.
I haven't been this excited about an upcoming K-State football season in a long time. Since maybe after the 2011 season? If Adrian Martinez pans out, this team could do some damage in the Big 12 this fall. It's gonna be a lot of fun to watch!
---
If you are on social media, please follow me on Twitter at https://twitter.com/joemathieu and Facebook at https://www.facebook.com/kstatejoe. Thanks!