From The Couch – Bruce Weber "Resigns." Here's The Latest….
From The Couch – Bruce Weber "Resigns." Here's The Latest….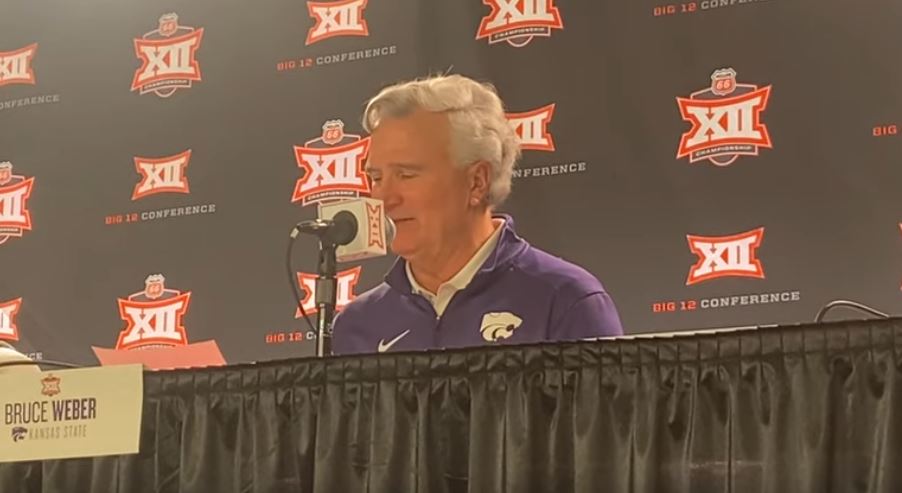 K-State head basketball coach Bruce Weber resigned today after a 73-67 loss to West Virginia in the first round of the Big 12 tournament on Wednesday night. It appears that this "resignation" was in the cards due to an agreement between Weber and athletic director Gene Taylor that Weber would resign if K-State did not have a winning record nor make the NCAA tournament this season. Whatever you want to call it, K-State was ready to move on from Bruce Weber. There were a bunch of interesting sound bytes from Weber both last night and in a press conference that he held today. There's a lot to unpack here, so let's get to it.
"Whatever happens in the future happens and that's fine. K-State is a great place, great people. You know, and I love — I told you the other day I love coaching here. Love coaching. I love — you know, I know I'm old and I've got gray hair, but they'll tell you I've got some spunk and I'll kick Mark's ass a bunch of times, and it's — we'll see what happens."…Bruce Weber, 3/09/22
JM: It didn't sound like Weber was ready to resign after the game, did it? This sounded more like he was campaigning to keep his job.
"We won titles. We did it the right way. We did it with our guys graduating, and part of my hair today, guys, I'm on the NCAA Ethics Committee. I'm in meetings. I was told that they were going to take
care of the people in the F.B.I. stuff, so I told somebody I'm going to grow my hair until something happens. Obviously it's still growing. That's the sad part of our business. Lon Kruger told me the other day all the guys in the F.B.I. except one are in the NCAA Tournament. All those teams are going to be in the NCAA Tournament."…Bruce Weber 3/09/22
JM: I've privately messaged my friends all season about Bruce Weber's hair. Why wasn't he getting a haircut? Are there no barbers in Manhattan? It wasn't a good look. Well, we had to wait until the season-ending press conference for him to bring up the fact that he refused to cut his hair until something happens to the schools in trouble with the FBI, strongly inferring that he was talking about KU. It was his parting shot to Kansas. Weber has done things the right way and by the book. He should be commended for that. It is kind of sad that programs that have paid players under the table for many years are in the NCAA tournament and their coaches, like Bill Self, appear to be the Teflon Dons and nothing ever happens to them. I was very happy to hear Bruce Weber say this publicly.
"Whatever happens, happens. That's life. I pray a lot. My faith is very important to me."…Bruce Weber, 3/09/22
JM: Weber paused during this sentence and got choked up and was fighting back tears. It was emotional to listen to him and he was, obviously, very emotional talking about it.
"It's a crazy business. I have loved it. I hope I get to continue. We'll see what happens."…Bruce Weber 3/09/22
JM: As of last night, Weber was hoping that he would get to continue coaching. Gene Taylor had a different idea. Around 10:00 this morning, the school announced Weber's resignation and Taylor released the following statement.
"Coach Weber has provided selfless leadership to our basketball program and university for the last decade. With two conference championships and an Elite Eight run in 2018, our program reached exceptional levels of success under his direction. His development of young men on and off the court, while representing K-State in a first-class manner with the highest level of integrity is unmatched in today's game and something all K-Staters should take great pride in."…Gene Taylor, 3/10/22
JM: There wasn't a retirement statement released by Weber. Just a blurb on the K-State Sports website that he resigned followed by this statement from Gene Taylor. Strange.
"Last night, afterwards, we talked. I think I got a sense that he was ready to walk away."…Gene Taylor, 3/10/22
JM: Then why did Weber say "I hope I get to continue" to the press last night?
"I think we'll get some great candidates whether it's a sitting head coach or a top assistant. We're going to start talking to people as soon as we can."…Gene Taylor, 3/10/22
JM: Doesn't sound like Gene has the next coach lined up or has been putting feelers out yet.
"We should be in a position to compete for Big 12 championships on a regular basis. In a sport like basketball, to be able to qualify for the NCAA tournament on a consistent basis."…Gene Taylor, 3/10/22
JM: This was in reply to a reporter that asked Taylor the expectations for the K-State basketball program. Making the NCAA tournament every year should be the expectation, especially if you can make it with a losing conference record.
"I don't want to go to the Final Four with a coaching position in my back pocket. That's like the worst thing you can do. So if we can get it (a new coach) before then, that would be great."…Gene Taylor, 3/10/22
JM: What if the next coach has his team in the Final Four? Like Brad Underwood? Other than that, it looks like Gene Taylor would like to have a new coach in place by the Final Four.
"Yeah, we do have a search firm that we're working with. Turnkey Associates."…Gene Taylor, 3/10/22
JM: I don't like the idea of a search firm, although Taylor also mentioned that this is the same search firm they used when they hired Chris Klieman.
"I would say they're not quite ready yet."…Gene Taylor, 3/10/22
JM: This was in response to a question asking about whether any assistants on the staff would be considered to replace Weber. Shane Southwell and Chris Lowery are not candidates.
"Earlier in the season, one of the social media people asked how we can get more people in the stands. I would tell you and challenge you just like I do to myself and my players…you might look in the mirror. There's no doubt winning helps. I know that, everybody knows that. But the negativity that surrounds K-State sports at times is really, really sad to me. This is the only school I've been associated with that I am afraid to give our recruits and have them connected to our social media because of what they will hear and see. I know other coaches in our department feel the same way."…Bruce Weber, 3/10/20
JM: I know social media can be a cesspool, but every school and every coach has to put up with this. Especially if they're not winning. This came across as whining to me. Bruce should have quit while he was ahead last night instead of having this press conference today.
"I'm not sure right now what my future is in front of me. When I got back last night and told my wife the situation, she said "You're not done. Don't tell people you're retiring." Maybe there's some AD out there that would appreciate a coach that graduates players, wins championships, supports the University, and embraces the community. And, maybe, brings some good players with him and has a successful program."…Bruce Weber, 3/10/22
JM: Bruce wants to and will coach again. It may be for a smaller school, but he'll find a job somewhere. This quote sounded like a job audition. Let's call this what it is. Bruce Weber was fired because he put together one of the worst, if not the worst, three-year stretches in K-State basketball history. Let's stop with the charade. Today was a clown show.
"I had a couple of guys, maybe Mike McGuirl especially, instead of being relaxed and enjoying it. I think he played a little uptight and struggled a little bit. I thought Mark had a few moments like that. I had to hug him and kiss him in one of the timeouts just to get him to relax."…Bruce Weber, 3/09/22
JM: I'm probably going to miss the strange Bruce Weber quotes like this one, but I'm ready for K-State basketball to start winning again. It's going to be a very interesting couple of weeks. Let's do this.
---
If you are on social media, please follow me on Twitter at https://twitter.com/joemathieu and Facebook at https://www.facebook.com/kstatejoe. Thanks!