Conference Realignment Talk….Again
Conference Realignment Talk….Again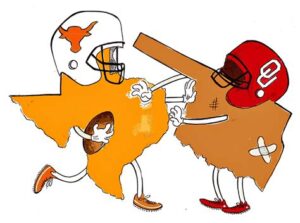 According to the Houston Chronicle's Brent Zwerneman, Texas and Oklahoma reached out to the SEC this week about joining the conference and an announcement may be coming within two weeks.
Neither the SEC, Oklahoma, or Texas is willing to comment on the report.

Oklahoma State issued a statement that said, if true, they would be "gravely disappointed."
At this point my attitude is screw it. Let 'em go. I'm so sick of this crap. K-State needs to be proactive, but I know they won't be. As of right now, the University has yet to comment publicly about this. If they do, they'll probably be the last institution to do so. All of this makes me sick to think about.
What will happen to K-State and the eight remaining schools? Matthew Postins wrote an article suggesting the Big 12 expand immediately, especially if Oklahoma and Texas bolt for the SEC. I agree with some of his suggestions.
Matthew also wrote an article about where the remaining Big 12 schools might end up should the Big 12 dissolve.
Never a dull moment, it seems. Looks like it's gonna be an interesting couple of weeks.